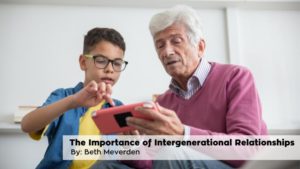 Intergenerational Relationships bring life to all of us. When God knits us together with someone in the body of Christ, those people become family. God gives us blood family, but also gives us chosen family.
Hymns, Hard Candy, and Pot Luck Dinners
In my personal devotional blog (BethMeverden.com), I often write about one of my life-mentors, Dorothy. She was a prayer warrior and my adopted Grandma. I often sat with her and her amazing husband, Lyle, during church. They always had butterscotch or cinnamon hard candy to share with me. I loved hearing Dorothy sing hymns and looking and her well-loved and marked up Bible. I used to love to sit with Lyle and the other "retired and tired old men" (as they called themselves) during potlucks and just listen to them talk about ways they could fix up what was broken on the church property. They served Jesus by doing handy man/deacon work and served me by letting me be their family.
Spiritual Mentors
It's important to me that my children build meaningful relationships with people who love Jesus more than them and will influence them to chase Jesus. They have significant relationships with family members who have chosen to follow Jesus and pray for them regularly. They each have adults they look up to spiritually who aren't their parents. Titus 2:1-8 gives great instructions on how older men and older men should train and mentor younger men and women. We should all take heed to what's important to God in these relationships. 
Second-Generation Ministry
I have second-generation relationship with kiddos whose parents I discipled in youth group. These kids remind me to keep going, to keep telling the truth to the next generation. I've been praying for these children since their parents weren't parents, yet. I love them dearly and have a special connection with them. I also feel a responsibility for them – not a parental one, but a "take every opportunity" to empower and train them kind of responsibility. Often I train them through continuing to pray for and empower their parents. 
God knew what He was doing when He connected the body of Christ intergenerationally. Older Christians need younger ones to remind them to share their wisdom and to stay young in their hearts. Younger Christians need older ones to remind them to be humble, serve, and endure. 
No matter what season of life you're in, allow God to set you a Divine appointment to encourage someone in a different generation in your church. You never know what kind of girl your "church building fixing conversations" may impact or what kind of influential man you are praying for as a boy. 
In everything set them an example by doing what is good. In your teaching show integrity, seriousness and soundness of speech that cannot be condemned, so that those who oppose you may be ashamed because they have nothing bad to say about us. Titus 2:7-8
Who in a different generation needs your encouragement?